Published on Tuesday, 06 November 2012 15:33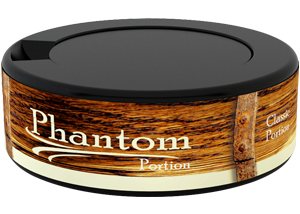 An Original type portion snus, Phantom Classic's flavor is a light mix of earthy, peaty tobaccos with a slight herbal sweetness and peppery back notes, a hint of salt and a touch of citrus in the background. Unlike the other snus brands in the V2 portfolio that are boldly flavor, Phantom Classic portion's overall flavor is mild and smooth and lasts for about an hour and a half. A great for the beginner as well as the seasoned snus user due to its mild, traditional flavors and moderate Nicotine content.
Nicotine: 8 mg per gram Amount: Approx. 20 portions Type: Original portion Availability: Worldwide
Published on Tuesday, 06 November 2012 15:13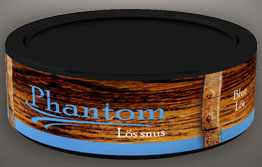 A coarse ground loose snus, Phantom Blue loose combines the flavor of slightly sweet citrus with the taste of earthy, leathery tobaccos and a hint of salt to create a truly unique flavor to Swedish snus. The coarsness of the grind allow you to easily hand form a prilla, as well a tool form it and have it stay intact for over two hours. The overall flavor profile differs from it's portion sibling in that the citrus flavor plays second stage to the tobacco in the loose. A great snus for the snus user wanting a change of pace from traditional flavored Swedish snus.
Nicotine: 8 mg per gram Amount: Approx. 40 grams Type: Coarse ground loose Availability: Scandinavia, Europe where allowed

Published on Friday, 05 October 2012 17:16

A lemony flavored, Original type portion snus with a moderate moisture level. Lemon is the predominate flavor in Phantom Blue with a background of smooth, earthy and peaty tobacco and a touch of salt. Unique to Swedish snus, Phantom Blue has a strong lemon scent from the can but a light, sweet taste in the lip. Think "Lemonheads" candy and you'll have the flavor of Phantom Blue Original portion snus!
Nicotine: 8 mg per portion Amount: Approx. 22 portions Type: Original portion Availability: Worldwide