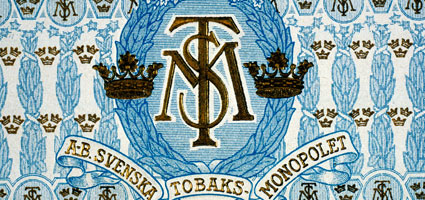 Swedish snus can trace its roots as far back as the 1600's when Swedish men would use Nasal snuff orally due to the ease of use when they would work on their farms. It was in 1822 when a Swedish man named Jakob Frederik Ljunglöf began to produce a wet variety of snuff to be specifically used in the lip called Ettan. Ettan, and snus use in general, became extremely popular in the next 90 years with quite a few different brands coming to the market. Brands such as Generalsnus made by WM Hellgren and Röda Lacket by Petter Swarz that were first made during that time are still just as popular today. In 1915, Snus would take a pretty big step forward into Swedish history with the formation of the Swedish Tobacco Monopoly.
This organization was created to aid the Swedish government in raising funds for its National Defense and its first Pension Reform. This Monopoly brought all the small individual snus manufacturers under the control of a central company known as Swedish Tobacco Monopoly LTD. This allowed for two things to happen, the quality standards of snus manufacturing to be consistent throughout all Swedish snus brands and also made it available to all Swedes. In fact, Swedish snus consumption between 1915 and 1919 increased to record levels once the Swedish Tobacco Monopoly was created! Up until the 1970's, Swedish snus only came in the loose variety but, another revolution was about to hit the Swedish snus business and that revolution was the introduction of the portion type snus!
Portion type snus was first introduced as Tre Ankare in 1977 by the Swedish Tobacco Company, now known at Swedish Match, and has grown to be the most popular form for a couple of reasons. First, it made Swedish snus easier to use. Until the introduction of Tre Ankare portion, you would have to get your fingers dirty in order to use snus. With the introduction of the portion, all you had to do was place a pre measured, packaged portion under your upper lip and enjoy. It is also easier to remove once you're done with it. Second, portions allowed snus to cross the gender barrier by making it easier to use. Out of the over 1 million snus users in Sweden alone, women make up about 10% of them and that percentage is continually growing. With markets not only in Sweden and Norway but in North America, Europe and Asia, Swedish snus as a whole is becoming more and more popular. Swedish snus would take another turn in early 2009 with the creation of Extra Strong lines.
From it's inception until 2009, Swedish snus Nicotine levels were averaging approximately 9 mg/g. Due to a demand from Norwegian users, the second largest user of Swedish snus, for stronger snus brands The Extra Strong snus brands were created. Now, the strongest snus available is at 22 mg/g and the total range is between 4 mg/g and 22 mg/g.