Details
Category: Latest News
Created on Tuesday, 12 February 2013 20:00
Hits: 9609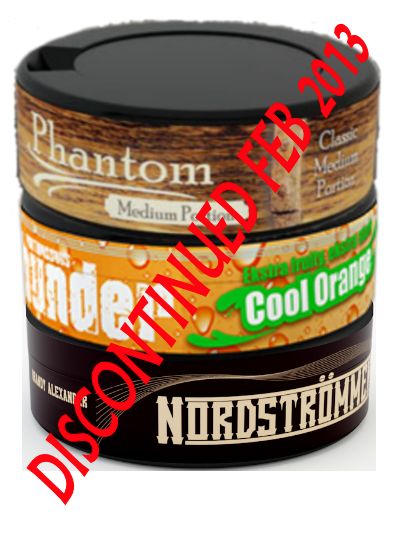 V2 Tobacco announced this week that it will be discontinuing three of it's Swedish snus brands and making an addition to it's large portfolio of Swedish snus. The three Swedish snus brands that they will be discontinuing are Thunder Cool Orange portion, Nördstrommen Brandy Alexander loose and Phantom Classic Medium portion. The addition comes in the form of a new chewing tobacco product developed by V2 called Thunder Chew and there will also be a change to the Thunder RAW line of products which we will explain later in this article.
While Brandy Alexander and Thunder Cool Orange had a cult like following, when we asked V2 Tobacco why they were included in the batch of discontinued snus brands they said that due to slower than expected sales, they were forced to add them to the list. Phantom Classic Medium portion was a Swedish snus that had the exact same flavor profile as the other variants in the Phantom Classic line with the portions being a bit smaller and slightly longer than Phantom Classic Original portions. While all three will be sorely missed here at Smokeless Aficionado, online shops, like swedish-snus.com and The Northerner, will carry Phantom Classic Medium and Thunder Cool Orange until their stocks run out so, if you're a fan of these be sure to grab some before they're gone for ever! As the old saying goes though, as one leaves, another will take it's place and the same holds true with V2!
V2 Tobacco also announced this week that they will be bringing a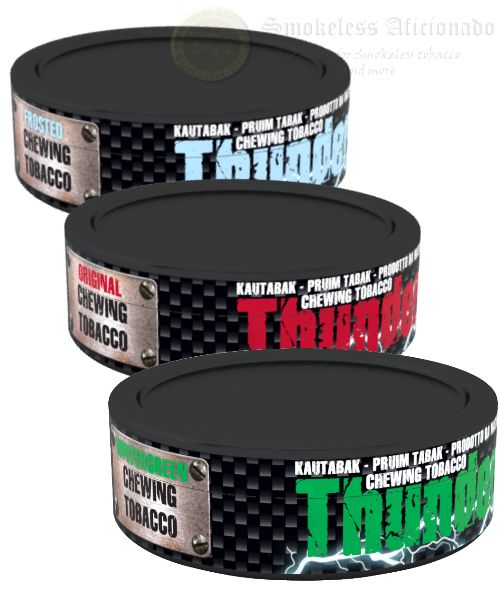 new chewing tobacco product to market during the month of February called Thunder Chew. Now, by looking at the cans pictured to the right, you would think that they are just releasing Thunder loose with a new name but according to V2, the products are not loose snus, they're more like Makla which is an extremely fine ground tobacco with a much higher Nicotine kick due to a higher pH level. We will be doing a full review on these new products by V2 as soon as they are released but from what we can assume, Thunder Chew will fill more than one void within the EU. Once released, Thunder Chew will be allowed for sale in many EU countries since it's legal to sell where Swedish snus is not. Like we said, as we get more information on this new product we will keep you updated!
The final bit of news coming out of Denmark is regarding Thunder RAW products. While there is no deletions or additions of any products in the Thunder RAW line, there will be a change to the name. Starting around the beginning of March, both Thunder RAW products will be renamed Thunder Ultra Frosted portion so, for fans of Thunder RAW, all you'll see is a slight change to the labels! Make sure to bookmark us for further updates and, for breaking news in the world of smokeless tobacco, along with fun facts and other ramblings, be sure to like us on Facebook!