Details
Published on Wednesday, 14 November 2012 21:23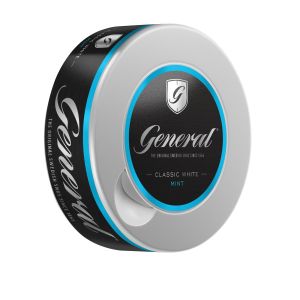 On October 11th 2012, Swedish Match had revealed to Smokeless Aficionado that they were preparing to release a new General snus recipe, specifically for the Swedish snus market, during the third week of November. Swedish Match has stated that "General Mint is a new recipe, developed for the Swedish market. It is based on the original recipe for General, but for the first time ever in Sweden a distinctive flavor is added." but after receiving a few pre-release cans, we can definitly say that this new incarnation of General Mint will not only be attractive in the Swedish market, it will also be quite the hit here in the States!
We say this because General Classic White Mint portion is not just another variant of the popular General Mint that can be found in select Tobacconist shops in the US and in e-shops worldwide, it's something completely unique to the General brand due to the flavor being the classic General White with Mint and vanilla flavors added to it, according to Swedish Match. Mint flavoring in a Swedish snus may be something that Americans are quite used to since the release of General Mint White in 2009, Mint flavored snus is something that has not been done to snus for the Swedish market and Swedish Match feels that this new flavor may be something that the Swedish consumers are looking for. While we feel that this flavor may have mixed results in Sweden, General Classic White Mint's target market, we here at SA feel that it will do much better here in the States since mint in a smokeless tobacco product has a longer history here.
General Classic White Mint portion snus will be released for sale in Sweden and select E-Shops next week. After spending a full day with this new flavor, we have come up with our thoughts on General Classic White Mint portion snus and have posted a full review of it in the "Reviews by That Snus Guy" section of the Smokeless Aficionado!