Details
Category: World News
Created on Thursday, 01 November 2012 21:10
Published on Thursday, 01 November 2012 21:10
Written by Super User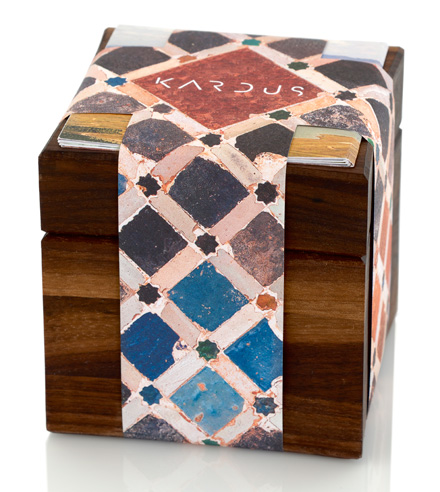 Update! We've released our review of Kardus Cincho 2012, click the photo on the left to be taken to it!
Every year since 2005, Swedish Match has created an exclusive, handmade and hand cut snus to be released during the holiday season. Each year they would create a different type of loose snus with a variety of exotic tobaccos and exotic ingredients all centered around one flavor profile theme. Kardus has also been a very limited addition snus (usually limited to under 700 packages) due to the fact that the tobaccos used are in very limited supply and usually grown by private farmers.
This year, Swedish Match has created Kardus Cincho 2012 to not only be just as exotic and exclusive but also completely unique from any other version previously released! This year's Kardus, unlike previous years that contained at least two different types of tobaccos, contains only one type of tobacco that was grown in the small village of Cincho in western Spain.
This unique tobacco has been carefully selected and handled with the utmost care to satisfy the demands in quality that Snus users in Sweden are accustomed to. The Cincho tobacco used in this year's Kardus is a very unique type of tobacco with a distinct luster and an oily black color. The tobaccos flavor features clear elements of licorice, a slightly sweet flavor of dried fruits and a flowery, rose hip flavor.
The other element that makes Kardus so unique in flavor is the addition of rare and exotic liquors used to enhance the tobaccos overall flavor. This year, Swedish Match has chosen Cuco Oloroso sherry from Jerez, Spain. This particular sherry has an elegant flavor consisting of a light nutty fragrance combined with the flavor of dried figs, sultanas, light syrup and licorice which does very well in enhancing similar flavors within the tobacco. Overall, a very complex flavor using only two ingredients of the finest kind!
The extreme attention to detail its been put into manufacturing this year's Kardus is unique to other snus making processes due to the fact that it is handmade from the field all the way to the can. What we mean by this is that the plants are harvested by hand, cut by hand as opposed to the grinding used in the other snus and hand packaged. So much care is put into the making of Kardus Cincho and one can tell this just by the taste!
Each package of Kardus Cincho 2012 comes packaged inside a handcrafted, dark walnut box designed specifically for Kardus Cincho by Swedish Match and also includes a small brochure that explains the manufacturing process as well as the tobacco and sherry used in Kardus Cincho. Kardus Cincho 2012 will be released for sale in some 10 stores scattered throughout Sweden on October 22 and available at select online retailers the week following.
The estimated cost for a package of Kardus Cincho is approximately 90 U.S. dollars making it by far the most expensive Swedish Snus on the planet! But to us, it is well worth the cost. Kardus Cincho 2012 will be listed in Smokeless Aficionado under the Swedish Snus section of our site that once we get our hands on it will post a detailed review.