Created on Thursday, 04 October 2012 18:16
Written by ThatSnusGuy
Hits: 13282

Phantom Classic Blue is a snus made by V2 Tobacco. V2 is a relatively new snus manufacturer, located in Silkeborg, Denmark, and was started by the Vogel's in 2006. Phantom Classic Blue comes in two versions, Portion snus and lössnus. Although they share the same name and, same core flavor, the intensity of this flavor is different between the two! Because of this, I will separate the two versions and do a review on both! So, let's start with the portion version!
Created on Monday, 01 October 2012 01:38
Written by ThatSnusGuy
Hits: 9103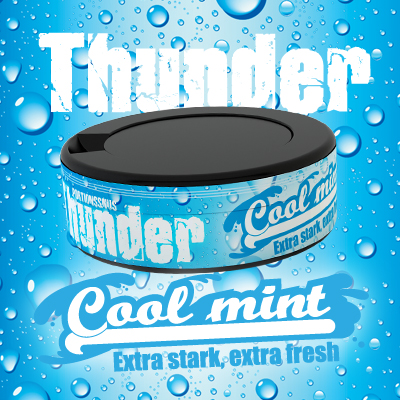 Now, before we get into the review of Thunder Cool Mint, there has been a bit of confusion between this snus and Thunder Frosted. While both are intensely flavored with mint, they are two separate snus flavors with completely different characteristics. We will go thru a review of Thunder Frosted in the very near future but I just wanted to clear that up! So, with that out of the way, let's see just what Thunder Cool Mint portion snus is!