Front Page
Snustopia!
Reviews by That Snus Guy
V2 Tobacco Reviews
Swedish snus made in Denmark! Reviewing V2 Tobacco!
Details
Category: V2 Tobacco reviews
Created on Friday, 22 June 2012 15:09
Written by ThatSnusGuy
Hits: 8288

Greetings Snustopians!
You heard me right folks, some of the most popular, and strongest, snus brands in the world are being produced in the town of Silkeborg, Denmark by a family run company called V2 Tobacco. Last week, I, along with Julls from SnusCENTRAL, was privilaged enough to have been able to spend 4 days in this beautiful country and even more privilaged to spend an entire day at V2's production facility. We were given exclusive access to not only the factory it's self but, to actually work on the lines to see exactly how the products we all know and enjoy, are made! So, grab a can of Thunder Cool Mint, a cold drink and a seat and let's learn how V2 Tobacco makes its phenominal snus!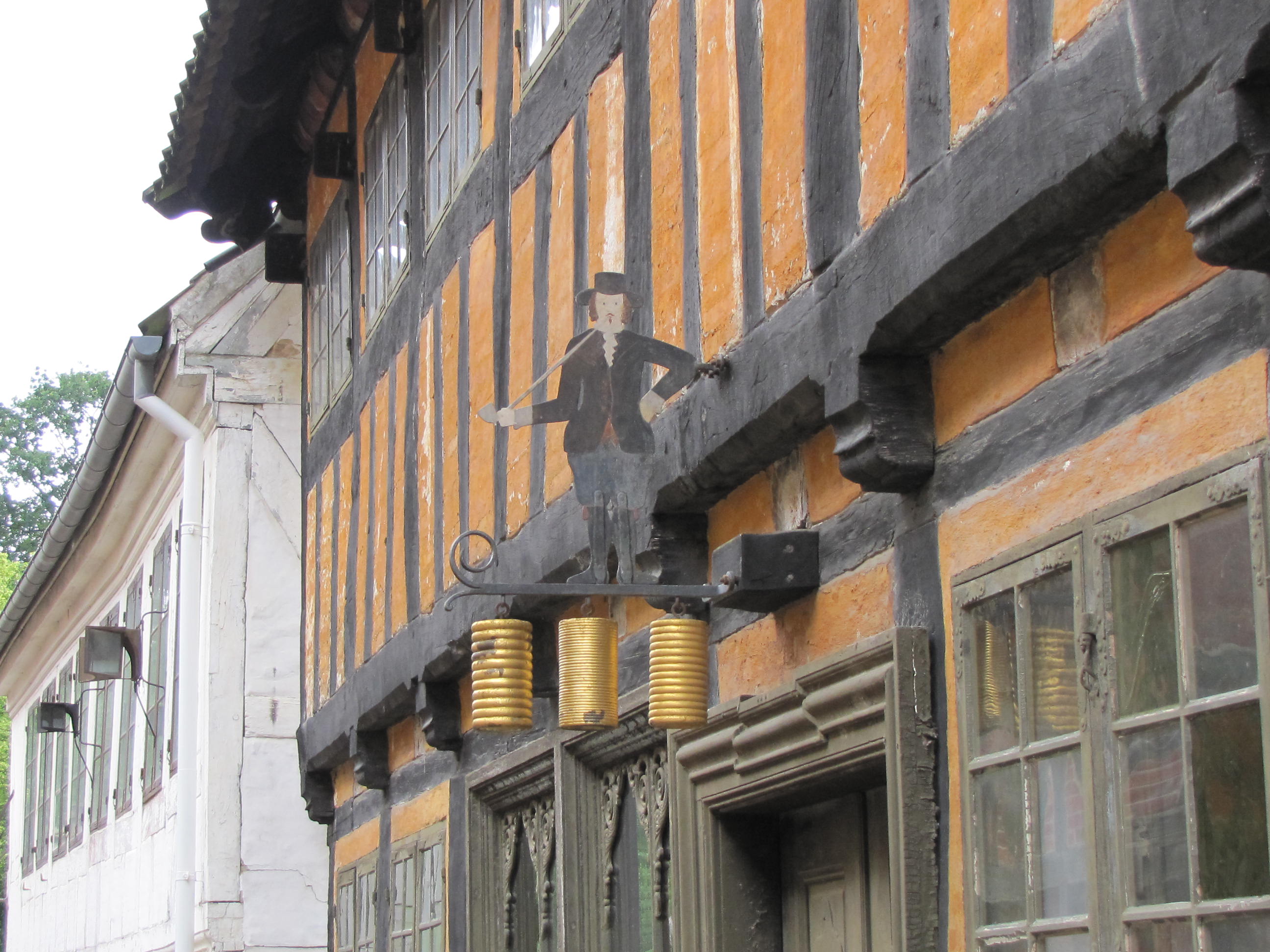 In order to fully understand the reason why what most Snustopians would consider a Swedish product, is being produced in Denmark, you have to really know the history of moist tobacco in Scandinavia. While we all know that snus has been produced in Sweden for over 200 years, is has also been produced in Denmark for just about as long. "Snus Guy! We thought that snus was solely a Swedish invention, what proof is there that snus was being made in Denmark?" Well, I'm glad you asked that! While we were in Denmark, Patrick, one of the owners of V2 Tobacco, took us to the town of Aarhus where there is a living museum called Den Gamle By. Within this museum, are historical buildings that have been meticulously taken apart from their original locations and rebuilt in this museum. The picture in the upper right is of the tobacco shop in Den Gamble By.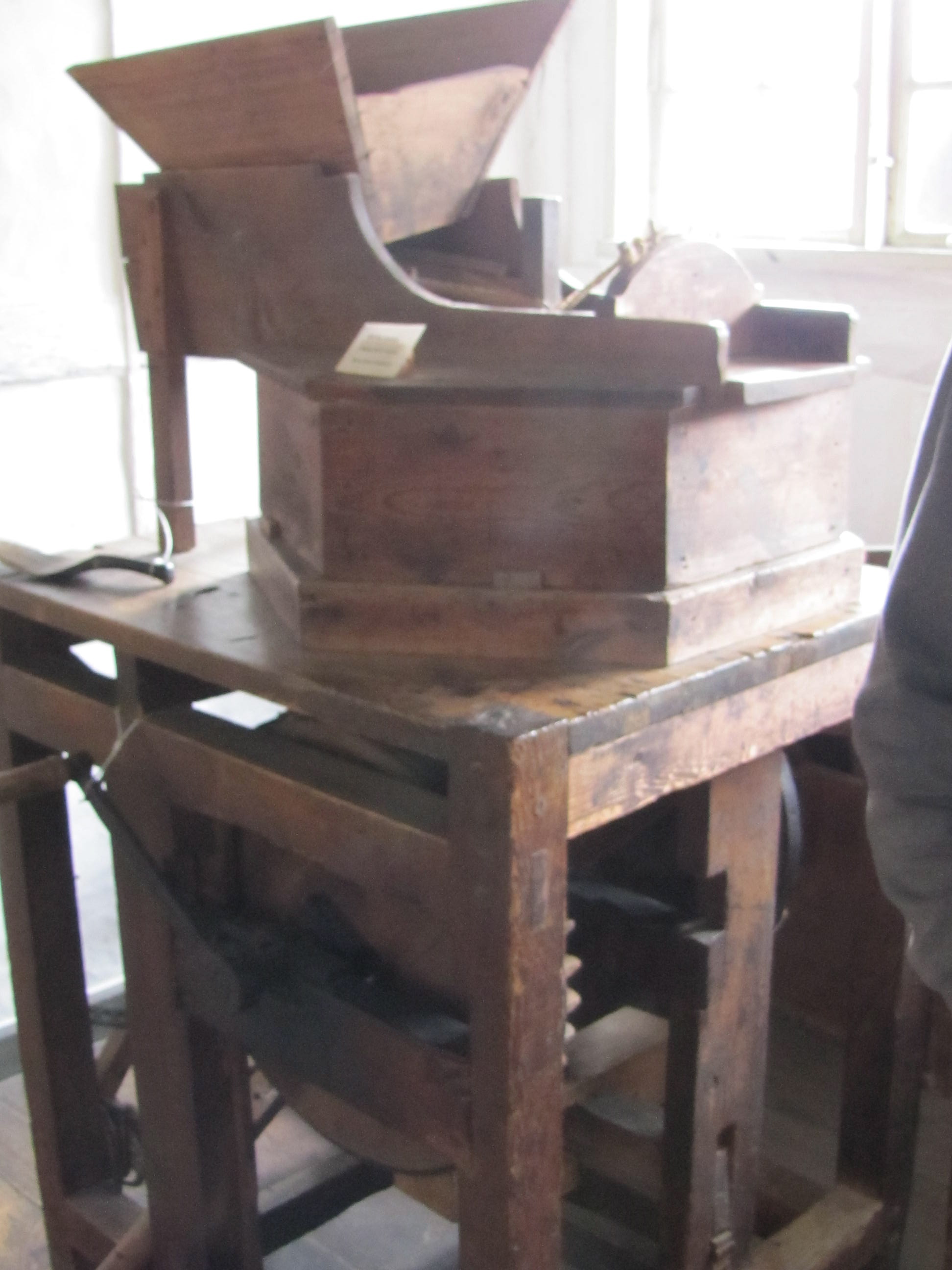 Within this shop, the hand powered machines of the tobacconist's trade are also preserved. When we first entered this building, we saw the proof that snus was indeed being produced in Denmark back in the early 1800's, the tobacco mill! Pictured on the left, below the picture of the shop, is a hand powered tobacco mill that would have been used to grind tobacco leftovers from the manufacture of cigars, twist tobacco and pipe tobacco. Once ground, the powered tobacco was mixed with a "Special snus sauce" to create the finished product.
While this is proof that snus was being produced in Denmark about the same time that Sweden was producing, it's also a driving factor for V2 to continue the tradition of Danish snus making. So, now that you have the Cliff notes version of Danish snus making, let's go into a bit of V2's history!
V2 Tobacco is a relatively new snus manufacturer having been producing snus since 2006. Owned by Patrick and Marc Vogel, hence V2, they are the driving force behind the company's passion for creating some of the most unique snus on the planet. While the company it's self is pretty new, the knowledge of snus making within the company is vast with some of the folks working in the Swedish snus industry for many years. "So, what brands does V2 make Snus Guy? Just incase some of us are new to Swedish snus." Well, V2 manufactures some of the most popular brands in the US, as well as some of the strongest. V2 Tobacco manufactures the Thunder, Offroad, Phantom/Rothbrix and Megapole brands along with the limited brands Nordstrommen and Julesnus, with Nicotine strengths varying between 8 mg and 21 mg per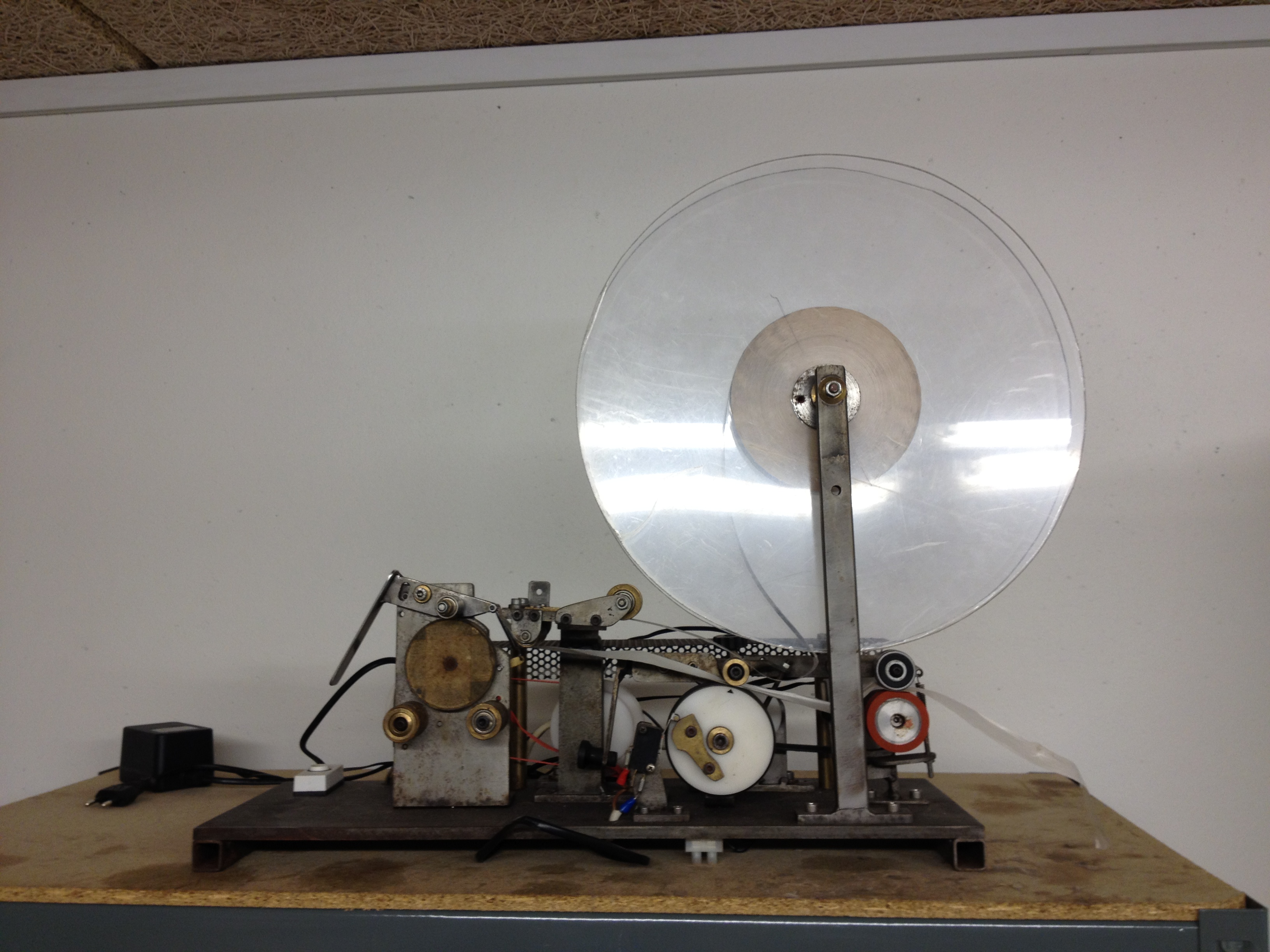 portion/gram and flavors that vary from pure tobacco flavor to berry, licorice and the popular Mint and Wintergreen flavors. Manufacturing snus at V2 in the beginning was pretty much a family affair. Everyone in the family had a hand in manufacturing and in some cases, even building the actual machines! To the right, is a picture of a can labeling machine built by Patrick and Marc's father. Prior to this machine, all labels were applied by hand and was painstakingly slow to do. With the creation of this machine, productivity was increased tremendously!
Today, this machine has been retired due to the high speed labelers that are used in the new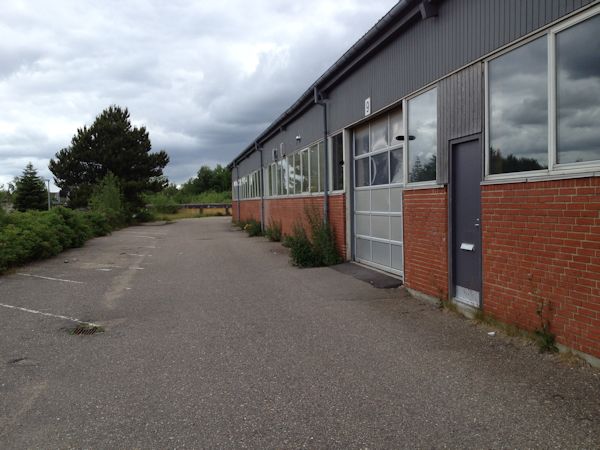 facility now but, the original machines that started V2 have been brought over to the new facility as a reminder of how the company started. According to Patrick, making snus back in the original facility was pretty hard. The old factory was half the size of the new one and was spread between 2 different buildings. While production, operations and sales were conducted in the main building, storage of cans, tobacco and finished product were kept in a building across the street. It was pretty much controlled chaos! One of the first places we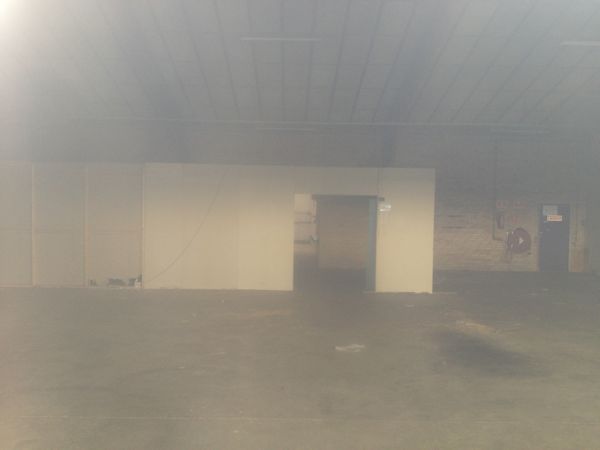 stopped once we landed at Billund Airport was at the old factory and I could see what Patrick was talking about. The picture on the right is a side view of the original factory and it is pretty small. Even though it's not a large building, they still managed to run 2 lines in it and maintain first class quality! The other picture is of the production floor taken thru the window. Imagine this room filled with 2 snus lines, one portion one loose, employees and material. In my mind, its pretty incredible!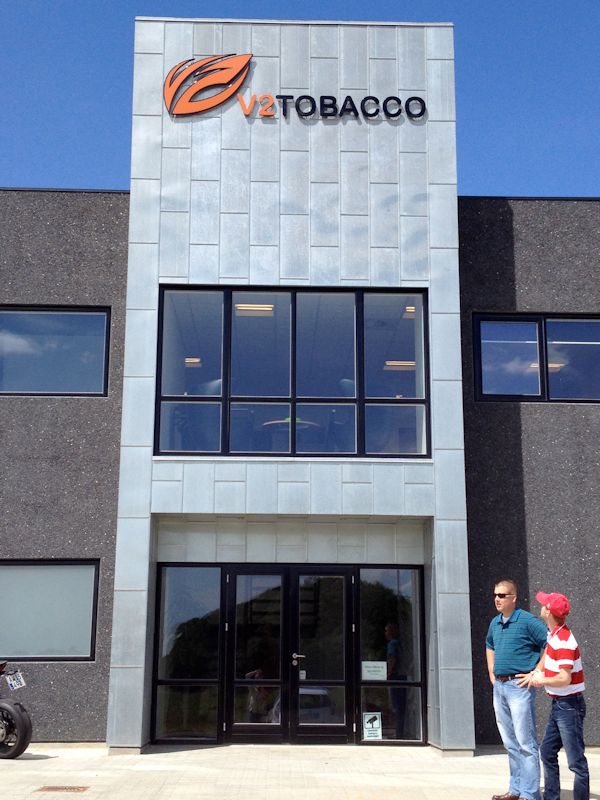 The new facility is almost 3 times the size of the old facility and holds 4 lines with room to expand and add even more. The new facility also remedies the issue of having multiple buildings for different parts of the production process by having space for storing raw tobacco, cans, finished product, the mills and a large cooling room. Overall, to see where V2 began and where they are now, it's not too hard to imagine where they will be in another 5 years! Another reason that brings us to this conclusion is the passion that everyone at V2 has for producing a premium product.
Now, if you remember back to the review we did on our trip to Swedish Match in Gothenburg, you'll recall that we also said that Swedish Match was passionate about snus but, there is a distinct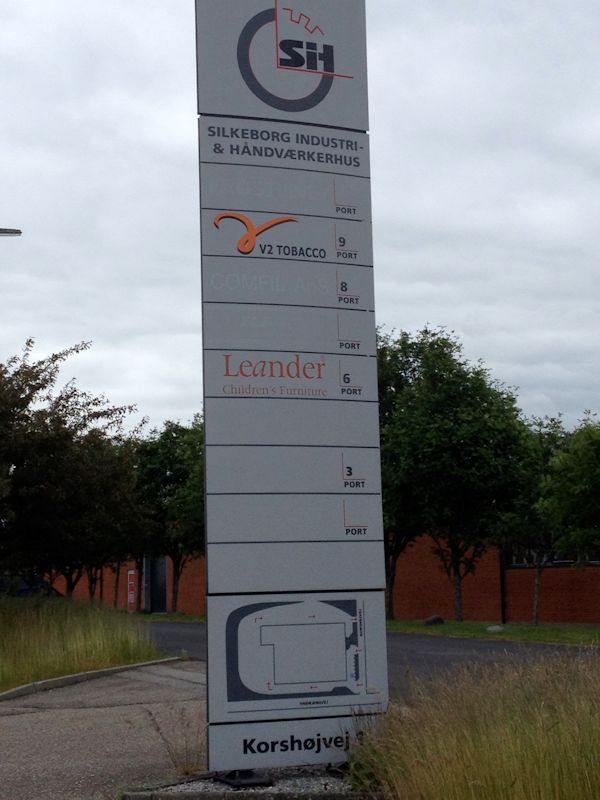 difference between the passion that Swedish Match has and the passion of V2 Tobacco. Swedish Match is indeed passionate about snus but it's different with V2. Patrick, Marc, Nils and everyone at V2 takes pride in what they do, no matter what position they hold within the company. Everybody from the janitor to Marc and Patrick, even their families, are proud of the product they make and their part in the process. It's a passion that is hard to find here in the states and I think a passion that makes V2's products so special!
Well Snustopians, I hope you have enjoyed this first installment of the V2 Tobacco Trip series "A brief history of V2 Tobacco". It was a real treat to talk with the people who actually make the products we all love and really opened our eyes! The next installment will be about our time as snus makers and I promise, it will be fun!! As always, feel free to post any questions you may have and I'll answer them as soon as I can!
Happy Snusing!
That Snus Guy a.k.a. Rob Jarzombek