Front Page
Snustopia!
Reviews by That Snus Guy
Swedish Match Reviews
Snus Review: Kardus Cincho 2012 loose snus by Swedish Match, a snus that's truly one of a kind!
Details
Created on Wednesday, 28 November 2012 18:35
Written by ThatSnusGuy
Hits: 13768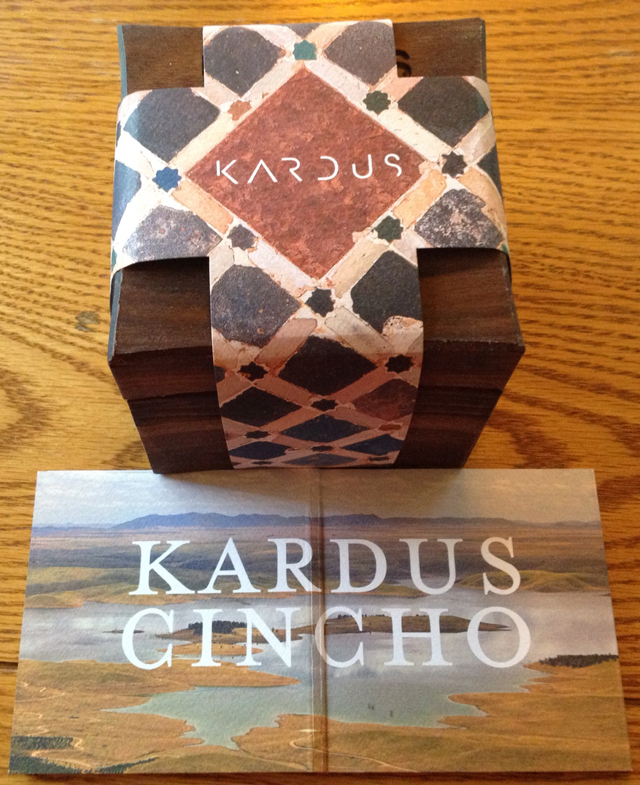 Well Snustopians, it's that time of year again, the holidays! To everyone other than Swedish snus lovers, the holidays mean time with friends and family, brightly colored lights and presents. To Swedish snus lovers however, it means the release of Swedish Match's unique snus offering, Kardus! You may be asking yourselves "Why would snus lovers be so excited about a snus release Snus Guy? What is so special about this Kardus snus?" Well, for one, it's a handmade, hand cut loose snus that typically takes over a year to make, is made from unique tobaccos and spirits and is released in a limited run. It's also a one of a kind snus that is produced once and never repeated. Let's get into the review of this year's offering, Kardus Cincho 2012, and you'll better understand!
Each year, around the middle of November, Swedish Match releases a special recipe snus called Kardus. They've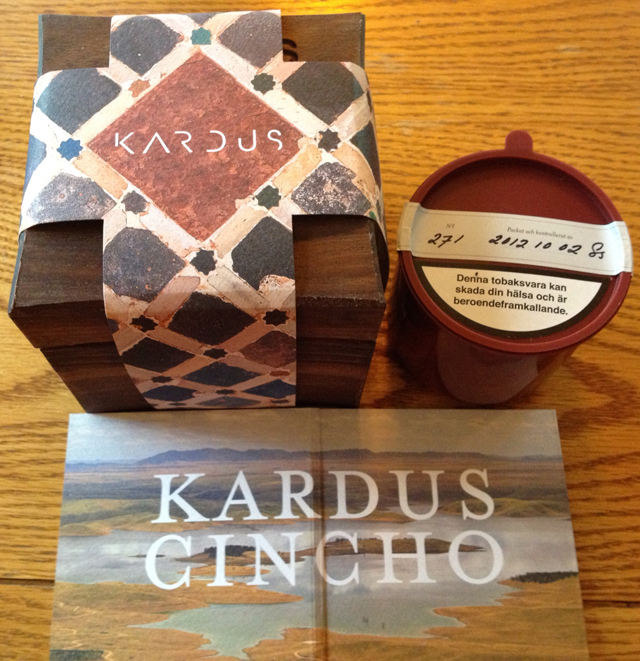 been releasing Kardus ever since 2006 and each year they create a different recipe using hard to find tobaccos and rare whiskeys with flavors that will complement the flavors in the tobaccos. Kardus also is manufactured quite differently than the loose snus you're used to and is described as "snus making the way it was originally done over 200 years ago." The tobacco leaves are hand selected for each Kardus edition and allowed to soak in the chosen whiskey, water and salt for up to 18 months in oak barrels. Once they're adequately flavored, the tobacco is removed from the barrels, hand cut and packaged for sale. Pretty basic process and completely made by hand, from start to finish. Once packaged in its plastic inner container, it's placed in a wooden box specifically made for Swedish Match with a brochure that explains the ingredients and the regions where they came from. So, what does this year's Kardus contain? Glad you asked!

Kardus Cincho 2012 is described by Swedish Match to have "Tobacco with clear elements of licorice, dried fruit and rose hip. The sherry Cuco Olorosa is used to flavor the Kardus Cincho with elements of dried figs, sultanas, light syrup and licorice. The tobacco used in Kardus Superior Blend 2012 is grown in sandy and mineral-rich soil at the foot of the massive Sierra de Gredos and then dried in open boxes." What's unique with this year's Kardus is that only one kind of tobacco was chosen to be used, unlike previous years where there have been two or more. The whiskey that was chosen is a sherry that's produced in the same region as the tobacco and has similar flavors. While this sounds like a perfect marriage of flavors, the actual flavor seems a bit weaker than previous versions. Let me explain this a bit.

What I get from Kardus Cincho is quite different from what's described. In the previous years, as soon as you opened the can, you could smell the chosen whiskey rather prominently. In Kardus Cincho, the bold Sherry scents you would expect to find are replaced with the unique scents of the tobacco. Earthy, grassy and a bit of peat are the scents that greet you, almost like your standing in the middle of the tobacco field. You can smell the alcohol in the background but the notes you would smell in a glass of sherry are not present, just the scents of the tobacco and a bit of alcohol. The flavor is something completely different. Unlike my reviews of previous Kardus offerings, where a few prillas were sufficient enough to do a proper review, I had to use almost half the can to decipher the flavors.

"Snus Guy, we've never known you to use that much Kardus in a review! Are your taste buds shot?" On the contrary, they're working just fine but the overall flavor profile is really quite subtle, completely different from the way previous releases presented themselves. In previous Kardus offerings, the flavors were pretty strong and one could decipher the flavors rather quickly. With Kardus Cincho however, the flavors are pretty light and...well...salty. Kardus Cincho is described as having the combined flavors of Licorice, dried fruits and Rose Hip from the tobacco. Dried Figs, Sultanas (which are golden raisins) and light syrup from the sherry so you would expect the snus to have a lightly sweet flavor when in fact it has a slightly salty flavor and completely changes what I taste in the overall flavor.

What I taste is the leathery, peaty flavor that comes from this artisan tobacco and it plays rather nicely with the saltiness. In the background, flavors of peanut shells, Oak, a light green grass note and a faint hint of fruity olives can be found. What I don't taste are any of the notes in the sherry, not even the alcohol bite that was present in other releases of Kardus. Overall, the flavors are completely different than what's described but, just as complex and, in my opinion, just as good! Kardus Cincho also has a pretty strong Nicotine kick as well. The snus is stated to be at 1.7% Nicotine so, after doing the math, the Nicotine content in Kardus Cincho is approximately 16 mg per gram, making it the strongest Kardus to date! Pretty strong but also very manageable. So, what to drink with Kardus Cincho? Let's take a look!

Kardus Cincho 2012 is a hand crafted, Artisan type of snus that is made with a very specific, and rare, type of tobacco and a specific sherry from the same region that the tobacco is grown. Since the flavors in the Cuco Olorosa are extremely light, a Spanish sherry, or Cuco Olorosa would go quite well with Kardus Cincho and may help to bring out the flavor profile that Swedish Match has described. In my opinion, with the flavor profile I taste, an aged, smooth Kentucky bourbon would go perfectly with this snus! Since I do not drink, I tried a variety of different teas and the one I found that really brought out the base tobacco flavors was simple Green tea! The grassy, earthy flavors of Green tea enhanced the flavors of the tobacco and helped to cut thru the saltiness. Earl Grey tea also went extremely well since the Bergamot in the tea helped to bring some of the fruity notes in the sherry out, albeit lightly.

My overall opinion of Kardus Cincho 2012 Snustopians, is this; Swedish Match has done quite well with each release of Kardus and this year's offering is very unique. If you're expecting Kardus Cincho to be predominantly flavored by the alcohol, like previous years, you will be disappointed since the predominant flavor is of the tobacco. I think that Swedish Match has done a fine job with this year's Kardus because the tobacco they chose is grown in extremely small batches and would be a shame to disguise it's unique flavor with that of a sherry. While this is my opinion, I highly suggest everyone should try Kardus Cincho 2012 and experience this unique snus for yourselves!
Kardus Cincho has been released to various online snus shops like SnusCentral.com and Northerner.com but, the release is limited to 600 units, including those released in shops in Sweden. The cost for Kardus Cincho is approximately $78.00 USD for 100 grams of this unique snus and will sell out quite quickly.

Well Snustopians, I hope you found this review of Kardus Cincho 2012 informative and fun. I look forward to answering any questions or comments you may have so please leave them in the comments section below.
As always Snustopians,

Happy Snusing,