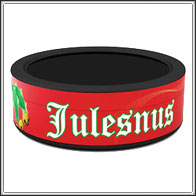 Well fellow Snustopians, it's that time of year again! The time of year that most people love and, my favorite time of the year! Here in America, we know it as Christmas time, Chanukah or Kwanzaa. In Norway and Sweden it's known as Advent. No matter how or where you celebrate it, it's meant to be a celebration, to spend with family and friends, good food and drink and to celebrate life. To the kiddies, they mainly remember the gifts and waiting the entire year for that special gift they asked for! Not a bad thing but, we adults like gifts too! I know I do and, V2's Nordströmmen Julesnus is the one I've been waiting for since I heard about Julesnus in June. There are two companies that make Julesnus, Gotlandssnus and V2. Today, we'll be reviewing V2's!
As I said in the last review, V2 is a relatively new player in snus and, Nordströmmen Julesnus is thier version of a snus created for the Advent season. This is the first year that they have made a Julesnus and, I was impressed with their efforts.
V2 offers both a portion version and a lös version of Julesnus and, they both have their own unique taste and character. As you all know by now, I prefer lössnus over portion so, we'll review the lös first but, before we go to that, let's go over the base flavors.
Julesnus is designed, and advertised, to taste like Christmas. V2's rendition's do taste like Christmas but, not what most Americans would envision Christmas to taste like. This snus has all the tastes of a Scandinavian one! Glögg, Cloves, spiced fruit and Gingerbread are the predominant flavors in this snus. For those of you who haven't had the pleasure of tasting Glögg, think Mulled Wine or, Red wine with Clove, cinnamon and Ginger. Although there is a major taste difference between the portion and lös versions (same base flavors just, a difference on which is more predominant) all the flavors are in both to varying degrees of intensity.
The lös version is, in my opinion, is the best out of the two. The cut of the tobacco is a coarser cut which means that it works perfectly for hand baking. An Icetool or Prismaster can be used but with caution. Since it's a coarser cut, it is generally drier than most lös flavors we are used to from V2. If the pris is over compressed, it will leave you with a hard feeling pris in the lip. I just pack the Icetool as usual and, put a small amount of pressure on the plunger against the lid to get the loose bits together. You could add a couple of drops of your favorite beverage in the tin as well to give it more moisture if needed. The initial flavor, in my opinion, is Gingerbread and Clove. Salt and tobacco are in the background but, like most of V2's flavored lös, just barely. The finishing flavor is Glögg. Again, it's not strong just, like a hint. I'm half Norwegian and, when I was young, we celebrated Advent. The flavors in V2's Julesnus lös take me back to when I was a kid, in the kitchen with my Oma helping her make Julekake and Krumkake cones listening to her say "holde seg borte fra Krumkake jern, det er varmt!" (stay away from the Krumkake iron, it's hot!) Overall, V2 really hit a home run with their version of Julesnus!
Julesnus portions, on the other hand, are completely different from the lös! Where we initially got the sweet flavors of spice and fruitiness in the lös, Glögg takes center stage with the portions. Surprisingly, there isn't a salty flavor with this portion. It's there but, this snus is so densely flavored that, only the flavors of Glögg, fruits and subtile spices come thru in a good way. When I initially opened the tin of portions, Glögg was the only thing I could smell. As the tin sat for a bit, the Glögg smell became less overpowering allowing the other flavors to make themselves known. The actual portions are a "white" type and a bit dry. Again, adding a bit of your favorite beverage would help but, to stay in the holiday spirit, I'd add a few drops of Glög or a spicy red wine like a Cabernet or Zinfandel. If you're a non-drinker, like yours truely, or, don't like wine, H2O will do just fine.
In my honest opinion, I prefer the lös version of this snus solely due to the predominant wine flavor in the portion version. This withstanding, I do believe that V2 has done a great job with both versions. I have asked other Snustopians for their opinions and, some love the portions, some love the lös, some love both and, a few didn't care for either but, as I've said in prior reviews, we all have different tastes and, will taste different things. At under $3 USD a tin, you can try both and, if your one of the few that dislike both, it didn't cost much to find out. If your looking for a snus that really offers you the chance to experience the tastes of a Scandinavian Christmas, V2's Nordströmmen Julesnus will give you that chance! I highly recommend you give both a try!