Created on Wednesday, 07 November 2012 20:23
Published on Wednesday, 07 November 2012 20:23
Written by Super User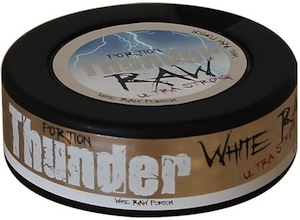 We just received information from V2 Tobacco in Silkeborg, Denmark, that they will be putting Thunder RAW Ultra Strong White portion snus into production around 22 November, 2012! Included in their "Limited Edition" release of four flavors in the Thunder line (Thunder Cool Mint White, Thunder Cool Orange White, Thunder Wintergreen White and Thunder RAW Ultra Strong White) Thunder RAW Ultra Strong White is the first of the four to be placed into production and added to their regular lines. While the exact dates that you will be able to purchase Thunder RAW Ultra Strong White and what shops will be the first to carry it..........
Published on Thursday, 27 September 2012 15:32
The 2012 Swedish Snus summit II, presented by Swedish Match in Washington DC, ended Monday evening leaving us with some great information and sneak peeks on what's to come over the next 3 months from not only Swedish Match AB but, from it's American arm, Swedish Match North America, as well. Many of our fellow Webmasters and bloggers were in attendance to hear what is expected to be a grand finaly to the 2012 snus year including the announcement of the limited edition Kardus 2012 snus flavor profile and a new innovation on how the Swedish snus user can purchase snus in Stockholm!
Created on Friday, 21 September 2012 20:59
Published on Friday, 21 September 2012 20:59
Written by Super User
You heard it right folks! Smokeless Aficionado has been invited to another Swedish snus summit presented by Swedish Match North America! This season's meeting promises to be filled with special snus news from not only here in the states but some great information from Swedish Match North Europe as well. This season's meeting,which is scheduled to take place in Washington DC this Monday, September 24th, will be great not only from a snus news standpoint but a memorable one as well. The meeting will take place at The House of Sweden which, for those who don't know, is the home of the Swedish consulate. Be sure to follow us on Twitter and like us on Facebook so you can read the live updates we will post during our time in DC!