Details
Category: US News
Created on Monday, 22 October 2012 21:01
Published on Monday, 22 October 2012 21:01
Written by Super User
As the title to this article says, we recently had the opportunity to see what new smokeless products are on the horizon to be released soon and will be available in a convenience store near you! From a new pre portioned Skoal Long Cut to many more types, and flavors, of E-Cigarettes and even a type of dry nasal snuff that has had it's roots in history for over 500 years! We've even seen some of the new Swedish snus brands that are making a huge impact in the Smokeless Tobacco category. So, how and where did we get to see all of this, you may ask? NACS 2012 is where we learned of all the new products that will be in a convenience store near you soon so, grab a cold drink, your favorite smokeless product and read on to learn what we learned at this year's NACS show!
We were fortunate enough this year to attend the National Association of Convenience Stores (NACS for short) Show in Las Vegas, Nevada and for us, a small information site about Smokeless products, this was quite an honor. Now, most of you probably have absolutely no clue what the NACS Show is or, how significant it is but, if your a convenience store owner or, a buyer for a small chain of 7-11's, this is the one show you do not want to miss! This is the show where you get to see everything from what new products will be available for you to sell to your customers to the new kinds of gas pumps and signage there is available.
The show is also huge, taking up all of the Las Vegas Convention Center and having over 1300 exhibitors from 65 different countries and a total of around 40,000 attendees. We have attended other shows in the past that were only for tobacco retailers but this one, by far, outshines them all just by its mere size and amount of manufacturers showing off their new wares! Speaking of new wares, you're probably wanting to hear about the new products, not a long, drawn out history of the show so, let's get into what we learned, and saw at the show!
One of the first things that struck us as we entered the the show was the amount of E-Cigarette boots we saw! In all honesty, the E-Cigarette market has really began to take off in the past two years and this fact was really felt at the NACS show this year. Right now in your local convenience store, you probably see a few types of disposable E-Cigarettes and maybe one that is rechargable. Resonably priced at about $10 per disposable and about $30 for the rechargable kit with a price tage of around $10 for the cartomizers. Flavors vary between Tobacco and Menthol and that's pretty much it. In the near future, as soon as December, you will see many more disposable units coming to the market along with a myriad of different flavors from coffee to White Grape. One of the brands we found extremely interesting was EZ Cig.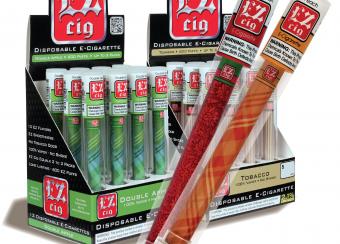 EZ Cig is a new manufacturer to the E-Cigarette arena and after speaking with one of their reps, they have a few things that will make them pretty successful in our opinion. First, EZ Cig is one of the only E-Cigarette manufacturers that will produce units in 12 different flavors ranging from the old standards of Tobacco and menthol to Chocolate, Java and Vanilla and an assortment of different fruity flavors like White Grape and Black Cherry. Second, the sticks themselves have been designed to have a bit of flair, unlike the standard E-Cigarettes now available. When we talked to EZ Cig, they had stated that their product was concieved to cater to the female looking to quit smoking and their product designs and flavors reflect this. EZ Cig product strength is 2.1% Nicotine and have a 600 puff life, comparable to approximately 3 packs of cigarettes. EZ Cig products should be making their way to a retailer near you by the end of the year as well as on select online shops.
Another E-Cigarette making it's way to inticing female users is V2 Cigs. They have released their Vapor Couture lin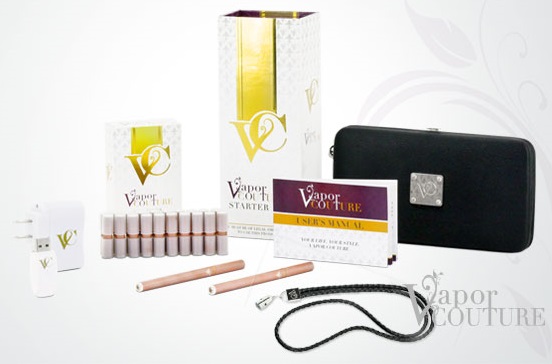 e of E-Cigarette kits that are exclusively designed with women in mind! What makes these kits different from the rest is not only are the sticks themselves designed in metallic pastel hues, they also come with carrying cases that resemble a clutch. V2 Cigs, one of the largest E-Cigarette manufacturers in the world, has stated that the majority of their users are indeed, female and with the Vapor Couture line, they are filling a long wanted void in the E-Cigarette market. While both EZ Cig and V2 Cigs products are unargueably designed with the female in mind, we've tried both and can tell you that both products will have a home here at Smokeless Aficionado! We know we're spending quite a long time on E-Cigarettes but, it is truly an emergin market and our last word on Vaping will pe the introduction of the E-Cigar!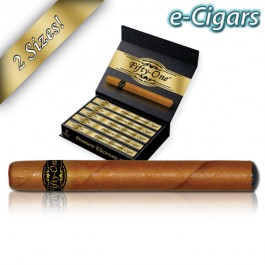 Yes, we know we're all about smokeless but, we do however, enjoy the odd cigar once in a while. Our wives....not so much, so when we came across the Vapor Corp booth and saw "Fifty One" E-Cigar we had to inquire about it! Now, E-Cigars are not new to the E-Smoke family. We've seen only one other at a show last year and figured it was just a fad. We were really mistaken! The Fifty One E-Cigar by Vapor Corp is probably the most unique one we've seen so far. The Fifty One E-Cigar really looks, and feels, like a cigar from the soft tip down to the graphics. The amount of vapor that comes from this product actually got us in trouble at the airport. People thought we were smoking an actual cigar until we had them touch the "lit" end. Fifty One is a disposable that's good for 1000 puffs and for me, will last for a few weeks if not more! We asked Vapor Corp's rep if there was any other E-Cigars in their line and they showed us the flavored line of E-Cigars that will be making their debut by the end of 2012.
While there are many more new E-Cigarette forms coming out, which we will do seperate articles here on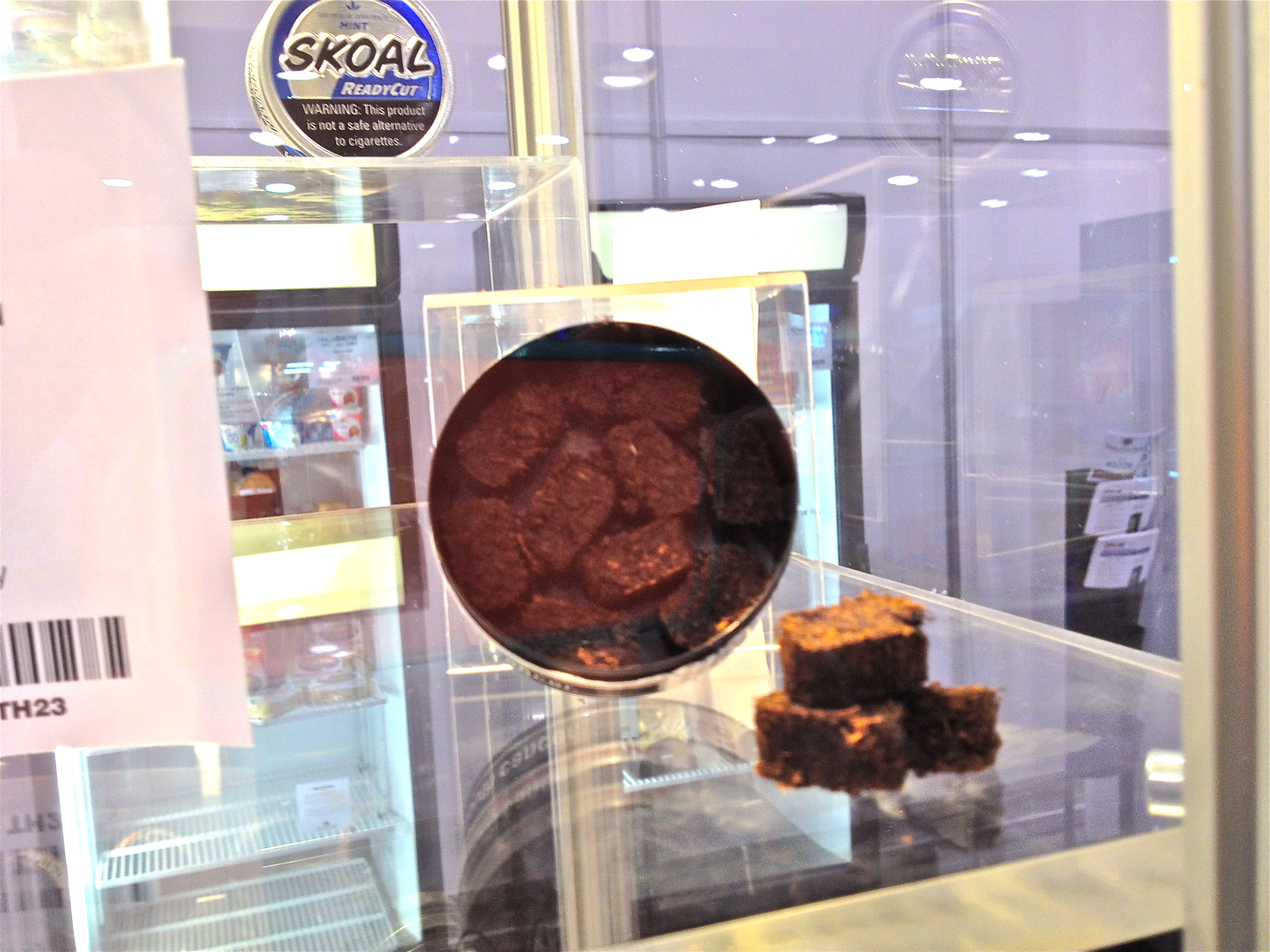 Smokeless Aficionado soon, we want to let you know about some new variations on American Smokeless Toabcco or MST. One of these comes from USST's Skoal brand and is called Skoal ReadyCut. Now, this intrigued us just as much as the E-Cigs did solely for the name alone. Our thought when we saw this product was "What kind of cut could this be? They have a long cut now that's pretty successful, why change the cut?" Well, after seeing the product, we realized it wasn't the cut they changed, it's the way the product is presented in the can! Small, preformed cubes of Long Cut tobacco that are designed to be just taken out of the can and placed in the lip. No packing needed or pinching for that matter, just take out a cube, place it in your bottom lip and enjoy as usual. The picture on the right is of the new product in the package and we will be posting a better one to Smokeless Aficionado once we get done reviewing it!
Our last, but probably most exciting, bit of news to the Smokeless world is Swedish snus and English nasal snuff's presence at the show. As you all know, Swedish snus, be it from Swedish Match or V2 Tobacco and Gotlandssnus, has been on the climb in popularity and to see all three manufacturers at a show that's not centered around tobacco is pretty exciting! What this means is that in the very near future, if you don't already see them, you will be able to get not only Swedish Match's General snus brands but V2's Thunder line as well as Gotlandssnus' Jakobsson's brands. Swedish snus has been gaining ground in the Smokeless tobacco arena quite quickly in the last two years and was, up until now, relegated to specialty tobacconists. Seeing these brands at NACS basically means that you will now be able to purchase true, Swedish made snus in your local gas station or mini mart. Along with Swedish snus, English nasal snuff is another smokeless tobacco product making it's resurgence to the market!
English nasal snuff, or dry snuff, has it's roots imbedded deeply in America. In fact, there are dry snuff boxes in the US Senate chambers that have been consistantly filled since the late 1700's. If you're a nasal snuff user, like most of us here at Smokeless Aficionado, you'll already know that up until last year, Poschl's snuff and Wilson's snuff were available at tobacconists but, with the new FDA rulings, these products are no longer available, leaving a void that needs to be filled. Toque Snuff is the product that will be filling that void! We will be doing a full review of this product in the near future as well as adding all of their products to our site. What we can tell you about Toque Snuff is that the founder of Toque is almost the Willy Wonka of english snuff, creating flavors like Whiskey Honey, Peanut Butter and Jam and Cheese and Bacon snuffs, just to name a few!
While we could go on for another day about the other, non related tobacco products we've seen at NACS 2012, we hope this sneak peek of a show that few consumers get to see was informative. Please check back often to find out a bit more about these products as well as other new ones!